We just love Blake Lively, the knockout Serena van der Woodsen of the series Gossip Girl, together with our dearest Deadpool star Ryan Reynolds. Can you say "eye candy" couple? This week, we tell the story of Blake Lively and Ryan Reynolds who captured our hearts by sharing sweet, funny moments from their marriage.
Love Straight Outta the Friendzone!
Always a hot couple because of their ridiculously good looks as well as their hilarious trolling wars, Blake and Ryan first met on the set of the Green Lantern, a DC Comics production. Playing again a superhero, Ryan Reynolds found his "set buddy" the very first day! Blake and Ryan immediately became inseparable buddies because they couldn't help but laugh around each other. Thanks to the special language they mutually created, they were able to poke fun at pretty much everything around them. At first, they were only good friends who shared a sense of humor.
Blake Lively was already in a relationship with the "Dan" of Gossip Girl, Penn Badgley and things were going well between the two. Ryan Reynolds was even married to one of the most beautiful women in Hollywood, Scarlett Johansson. Blake and Scarlett became good friends during the filming of Green Lantern, so no one suspected a Everything stayed normal for about a year until fate started working – Ryan and Scarlett decided to get a divorce while Blake and Penn had already broken up. However none of the two buddies got any "now single and ready to mingle" ideas and carried on with their friendship. Always considered a perfect match by the media whenever they were spotted together at awards nights, premieres and on the streets of NYC, they didn't pander to these rumors at all. The duo even ended up running into each other on a double date!
Neither of them realized the jealousy they would feel at seeing the other dating someone else. That doomed double-date night was a real turning point for them. They now understood the bond they shared was deeper and more intimate than they ever thought possible. During an interview years later, Ryan Reynolds would describe his feelings at that very night as follows:
"That night when I saw Blake with another man in front of me, I looked at the woman next to me and said to myself "What the heck are we doing here!". I was mad because we were just like fireworks coming across in the middle of an awkward date. It dawned to me that our story was just starting."
"Let's Make it Official"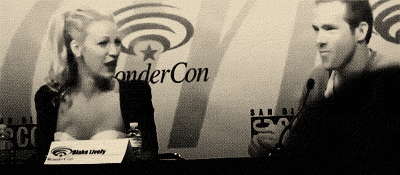 Realizing how madly in love they actually were that evening, Blake and Ryan were announced "the dream couple" after they were spotted holding hands in public. While the tabloid press was busy with the mouth-watering news of their new relationship, young and glittering couple Blake and Ryan had more than that on their agenda.
Even at the very beginning of their relationship Blake and Ryan knew they were going to be together all their lives, so why waste the time? They decided to visit Ryan's family in Canada ASAP. Blake was happy to be welcomed into the family right away as a prospective "bride-to-be". Having been cautious in all her previous relationships, she wasn't worried about letting herself be vulnerable this time.
After a few visits to Canada and New Orleans to visit Blake's family, they tied the knot in front of a number of guests in a secret wedding ceremony in Charleston, South Carolina. (It's also the location where The Notebook was filmed, so of course it was incredibly romantic!)
Trolling Wars!
After a year and a half of the married life, the couple shared the news of their first addition to family. Although they focused on being the perfect parents, they themselves have a hard time controlling their mischievous inner child. Ryan Reynolds' poking fun at his wife on social media, and Blake trolling back at him on Instagram was highly entertaining to us AND them. Recently, Blake Lively unfollowed everyone on Instagram including her husband Ryan Reynolds and deleted all her photos for the sake of promoting her new film "A Simple Favor"; Ryan didn't miss the chance to respond to her in a tweet that read: "Hope Blake didn't kick me out of the house".
Supporting each other in every way possible, laughing together, and not sweating the small stuff, Blake and Ryan have been restoring our faith in love and true friendship. The duo are living proof that love is much more than clichés and staged photo-ops.